An Opportunity to Make an Impact
I thank my God every time I remember you. Philippians 1:3
If you find yourself here, reading the words on this screen, our gratitude is meant for you. Whether you're a church leader, a financial partner, a volunteer, a partnered agency or organization, a social media follower, or simply a friend of this ministry, we are thanking God for you. In this season of thankfulness, we want to express our deepest gratitude for the continued support you give to Backyard Orphans.
Your support reaches far beyond the dimensions of this organization. When you pray for, give to, or spread the word about us, you are aiding us in reaching more churches, who are raising up more families, who are welcoming more hurting children into healing homes. Your generosity does not go unnoticed by our team. 
 Ministries like ours couldn't operate without the faithful gifts from financial partners. Every dollar given accelerates our vision to see a day where there are more families waiting for children than children waiting for families. Since the inception of Backyard Orphans, your generosity has made an astounding impact! 
You have helped us raise $1.7 million to further the vision God has given us.

You have helped three college campuses bring attention to foster care and adoption.

You have helped us engage thousands of churches and train hundreds of them.

You have helped our national network of 13,000 churches launch a foster care strategy.

You have helped over 1,000 children find forever homes within the Church. 
 God has been doing miraculous things through the ministry of Backyard Orphans. Like you, our team is simply striving to be obedient players on His team. We aren't all called to do the same thing, but we are all called to do something. 
 In Romans 12:4-8, Paul reiterates that truth, "For just as each of us has one body with many members, and these members do not all have the same function, so in Christ we, though many, form one body, and each member belongs to all the others.
 We have different gifts, according to the grace given to each of us. If your gift is prophesying, then prophesy in accordance with your faith; if it is serving, then serve; if it is teaching, then teach; if it is to encourage, then give encouragement; if it is giving, then give generously; if it is to lead, do it diligently; if it is to show mercy, do it cheerfully."
 Many of you have been given the gift of generosity. The testimonies of impact we shared leave no doubt about it! But perhaps there are some of you who have not yet taken the step to become a financial partner. Could God be calling you toward your next step? 2 Corinthians 9:8 gives us assurance in our giving, "God is able to bless you abundantly, so that in all things at all times, having all that you need, you will abound in every good work."
 We aren't all called to foster or adopt, but we are all called to do something–your something could be partnering financially with Backyard Orphans. What does it mean to be a financial partner?
It means you get to be a part of a mission that is far greater than yourself!

It means you get to play a direct part in helping hurting children find healing homes! 

It means you get to experience the joy and fulfillment of impacting the lives of children and families around the nation! 

It means you get to receive the blessing that comes through giving! 
 Paul says in Acts 20:35, "In everything I did, I showed you that by this kind of hard work we must help the weak, remembering the words the Lord Jesus himself said: 'It is more blessed to give than to receive.'" 
 It truly is more blessed to give than to receive! It is around this time each year that we are reminded of that. You will be presented with more opportunities to give this month and next than you have been given all year! In fact, this month, on November 30, the world recognizes a day known as Giving Tuesday. "Giving Tuesday is ​​a global generosity movement unleashing the power of people and organizations to transform their communities and the world." 
 This year, for Backyard Orphans, Giving Tuesday has the potential to be extra impactful, because anything you give will be DOUBLED! Thanks to one of our incredible financial partners, donations will be matched up to $6,000. Did you catch that?!? This is an opportunity to raise $12,000, every dollar of which will help more hurting children find healing homes! 
 So, what will you do with this opportunity?
First and foremost, we ask that you would join us in prayer, believing with us that God will multiply our efforts as we put our trust in Him!

Second, we ask that you would prayerfully consider making a special contribution on Giving Tuesday.
 The ask is simple, but the impact is profound. 
 To donate, and for more info about becoming a financial partner, go to backyardorphans.org/dontate.
 Give now and your contribution will be matched!
 We value the love and support you show, and we "thank [our] God every time [we] remember you!" (Philippians 1:3)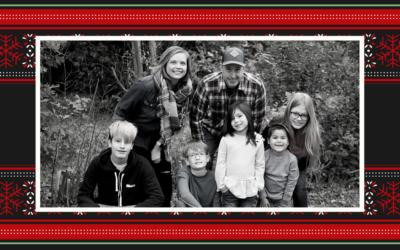 As we approach the holiday season, it's a great time to be reminded that when it comes to orphan care, we are all called to do something. James 1:27 makes it clear that caring for the fatherless is not a good deed we do because we are religious, but that it is the...
read more